CityWestPlace Fitness Center – Weekly Schedule
03/01/20. - 03/31/20.
2103 CityWest Boulevard
Houston, TX 77042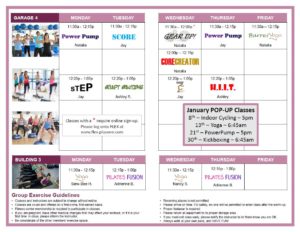 CLASS DESCRIPTIONS
GEAR UP – Gear up for this cycling experience set to music combining jumps, intervals, hills and sprints to promote total body and aerobic fitness
STEP – Use an adjustable platform for this low impact workout. Class focuses on easy to follow high energy moves to produce a great workout.
HIIT (High Intensity Interval Training) – Class includes short, high intensity intervals combined with active recovery designed to train the body for improved performance and calorie burning.
C27 (Compound Cardio 7)  – An efficient, effective total body workout system using seven minute movement blocks. Each kickboxing inspired block uses easy transitions to keep your heart rate up so you can crush calories while you build strength, endurance and core control.
SCORE (Strength/Cardio/Core) – A blend of whole body functional movements that include strength, interval, agility, and core training.
POWER PUMP – This 45 minute workout challenges all your major muscle groups by using the best weight room exercises like squats, presses, lifts, and curls. Great music, awesome instructors and your choice of weight inspire you to get the results you came for and fast!
SCULPT SOLUTIONS – A head to toe toning routine that works every muscle in your body set to hip hop music. Various types of strength training equipment are incorporated.
CORE CREATOR – A 15 minute class packed with plenty of moves to strengthen your abs, back and trunk.
PILATES FUSION – This class is a fusion of Pilates and a variety of toning techniques to create all over strength and flexibility. All levels will succeed in this class.
YOGA – This class features the ancient practice of Yoga; a series of asanas (postures) to increase flexibility, energy and stillness of mind.
BARRE YOGA – Barre Fit meets yoga in this unique fusion of two disciplines